Ace of Spades Address
Ace of Spades is situated in downtown Sacramento, which makes it easily accessible from various parts of the city. Its central location also places it near numerous restaurants, bars, and other entertainment options, allowing for a more comprehensive night out.
The famous and electrifying neighborhood of Sacramento pulses with life, boasting a unique blend of stunning architecture, contemporary art and bustling culture. The streets that around the Ace of Spades teem with a diverse array of people, drawn in by the atmosphere and the endless possibilities for excitement that Ace of Spades provides.
ADDRESS
Ace of Spades,
1417 R Street,
Sacramento,
California 95811,
United States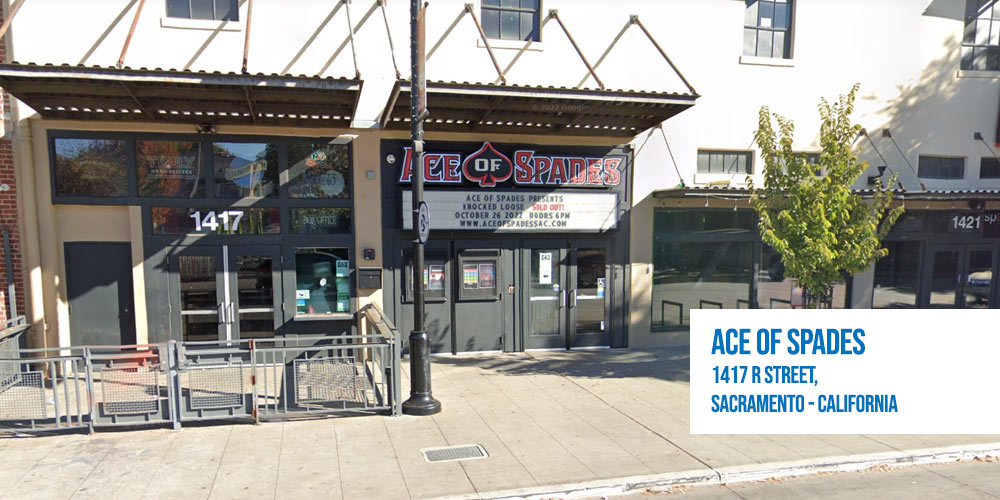 PUBLIC TRANSPORT
Public transport in Sacramento near to the Ace of Spades, is often quite busy. This is especially true around the time of major events. Remember to plan accordingly.
Remember to check the latest schedules and routes for public Transportation on apps such as Google Maps.
There are several public transportation options available near Ace of Spades in Sacramento. Some options to consider include:
LIGHT RAIL:
Sacramento Regional Transit (SacRT) operates a light rail system with stations near Ace of Spades. The closest light rail stations to the venue are 7th & Capitol (Blue and Gold Lines) and 8th & O Street (Blue and Gold Lines).
BUS:
SacRT also operates a comprehensive bus system throughout the city. There are several bus stops within walking distance of Ace of Spades. Check the SacRT website (www.sacrt.com) for specific bus routes and schedules.
BIKE:
Sacramento has a bike-friendly infrastructure, and you may find bike lanes or paths that lead to Ace of Spades. There are also bike-sharing options like JUMP Bikes available in the city.
RIDESHARING:
If you prefer ridesharing services like Uber or Lyft they are widely available in Sacramento and can provide a convenient way to reach the venue.
UBER & TAXIS:
We recommend using an Uber or a taxi as the easiest and most stress-free direct way to travel to Ace of Spades.
DRIVING:
We recommend you read the Ace of Spades parking information to learn about the different parking options available. We advise leaving additional time to face Sacramento traffic and walk to the venue entrance after parking.