Ace of Spades | Sacramento, California
Attention Emo Rap Fans! Get your TICKETS for SAD! An Emo Rap Thing with Blade Trip at the one and only Ace of Spades in Sacramento, California — happening on September 1st, 2023!
This is not just a CONCERT – it's a total experience. A groundbreaking tour featuring the biggest names in Emo Rap, all in one place. Get ready to be overwhelmed with a roller coaster of emotions – from laughing until you cry to headbanging until the sun comes up.
Enjoy hits like 'Rebel Without a Heart', 'Monster Inside of Me' and special performances of classic tracks like 'The Beaten Path' and 'Sad Clowns'. Every single song will be a journey – exploring the highs and the lows that come with being alive.
Relive the moments and share your feelings with like-minded ravers. This is an event you and your friends won't forget. Come discover your own emotion, your own unspoken language. Let your heart break and your spirit soar. Get your TICKETS NOW and join us in Sacramento for SAD! An Emo Rap Thing with Blade Trip!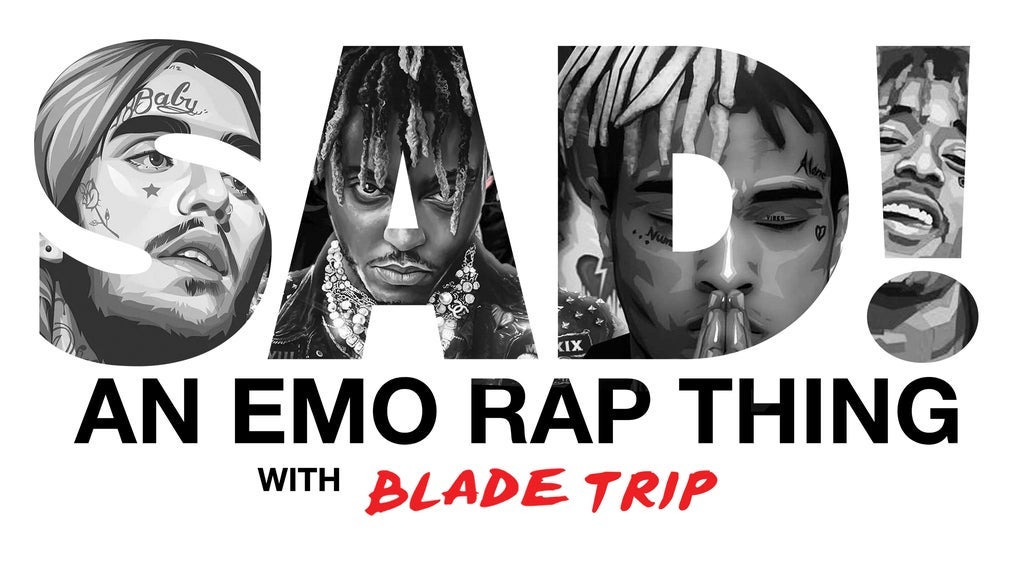 Yo, check it out – SAD! An Emo Rap Thing with Blade Trip is bringing the NOISE to Ace of Spades in Sacramento, California on September 1, 2023!! Get. Ready. You already know SAD!'s game-changing Sound, EPIC Live show and MAD awards, and you ain't seen nothing yet – this show will be off the HOOK.
You know ticket holders are gonna be HYPED to witness SAD! live for the first time, showing off their wicked bars and laid back beats. If you ain't caught it before you definitely won't wanna miss out this time.
The tour to SAC's AOS will be tight! Everyone knows this spot's ROCKIN vibes and ELITE sound. Sick graphics and SICKER lighting! Guests will be BUMPIN to the beat 'til 4am. Just the WHOLE show experience will be lit!
Plus, the venue has limited seating, so don't be like "ooh, I just missed out on the show," 'cause ya only got one shot. Get your tickets today, don't delay! YOU know what's up: Support SAD! and get ready to rage live and LOUD with Blade Trip and friends – see y'all there on September 1!