Ace of Spades | Sacramento, California
EVENT CANCELLED. Please contact your ticket point of purchase to claim a refund on your tickets.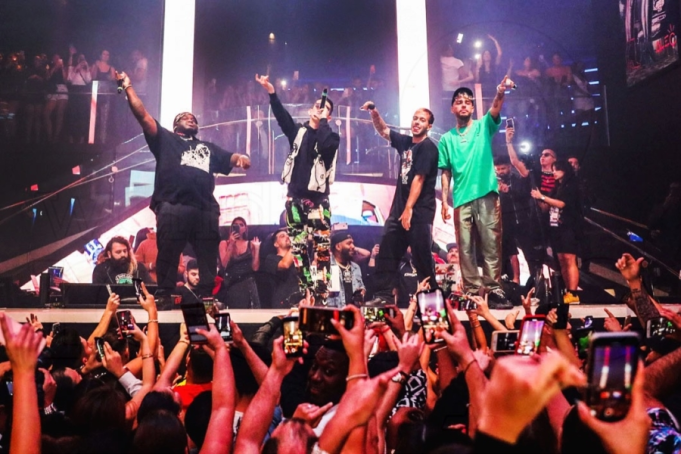 Calling all J Quiles fans, it's about to get lit! 🔥 That's right, our very own Latino king, Justin Quiles is touring coast to coast and making a pit-stop at Ace of Spades in Sacramento, California on October 20th, 2023. What a time to be alive, huh?
You heard it right fam. Your chance to vibe out with his electrifying performances and witness unforgettable renditions of his GREATEST HITS, like "No Quiero Amarte" and "DJ No Pare", is about to drop RIGHT. INTO. YOUR. LAP. It's a guaranteed night of pure fuego! 🔥
Now, let's talk tickets. There's nothing like the rush of scoring one. The pride and joy. The euphoria. The IG brag rights. So go grab those tickets ASAP, because they're hotter than his Billboard charts and selling like hotcakes. Missing out on this concert will be essentially banning yourself from all the FOMO-ridden group chats, and let's be real, who wants that?
This ain't just any concert we're talking about. This is THE Justin Quiles TOUR. J Quiles, live and uncensored, on a night that promises to be LEGENDARY. An event blasting with Latino swagger that's got everyone and their abuela excited. This concert is your one-way ticket to pure reggaeton ecstasy.
So set those reminders, mark your calendars and let's make October 20th a night we all remember. Can't wait to PARRANDA the night away with you all. Get ready to live it up, #SacramentoStyle! 💃🎶🎤
Listen up, music lovers! This is the bombshell announcement you've been waving your lighters for! The urban Latin sensation, the two-time Billboard-winning, high-octane performer, Justin Quiles is riding the 'La Promesa' Tour bus into town! He's roaring into 'The City of Trees' - Sacramento, California, to set off dynamite on the stage of the Ace of Spades on October 20, 2023. Can you hear the bass pumping yet?
This is THE CONCERT. The one that everyone and their abuela is gonna be talking about. So, if you've never vibed to a Justin Quiles concert, get ready for an explosive glossary of Reggaetón, Trap and Latin Pop that's cranked up to ELEVEN! When J Quiles spits his unmatched lyricism - an incandescent blend of passion, frustration, love and life - you're not just hearing it, you're FEELING it.
Hip-swaying grooves? Check. Heart-throbbing beats? Check. Spine-tingling vocals? Mega-check. This concert is all set to be one stellar night packed with Latin fierceness, unleashed energy and electrifying performances! Quiles' emotive delivery is seriously the next best thing to a snatched lottery ticket. Don't believe us? Ask the Latin American Music Awards that put this 'Egoísta' singer on their map; or the ecstatic, entranced fans who bop and pulse to his beat from Puerto Rico to Panama to the Pacific Coast!
Now, about where this raving good time is taking place... the Ace of Spades in Sacramento – an iconic edifice of bricks and beams that knows how to rock a crowd! This gem of a venue, at the intersection of R and 15th, is the hallowed crib where indie, pop, reggae and rock history are made, and where a hearty good time always goes down. An intimate setting with killer acoustics and a vibe to DIE FOR. That's right, it's not a giant stadium where you need binoculars to feel the performance, here, you're part of the live action!
We don't need to tell you this jam is gonna sell out FASTER. THAN. LIGHT. Buckle up, cuz it's time to etch another gigastic chapter in your book of eternal memories. Go get your TICKETS now, before they're as extinct as a Discman! It's time to book your ride-on-the-wild-side and step into the whirlwind world of Justin Quiles. So grab your ticket, lace up your dancing shoes, and inject a dose of raw, unadulterated exhilaration into your life! LET'S. DO. THIS.