Ace of Spades | Sacramento, California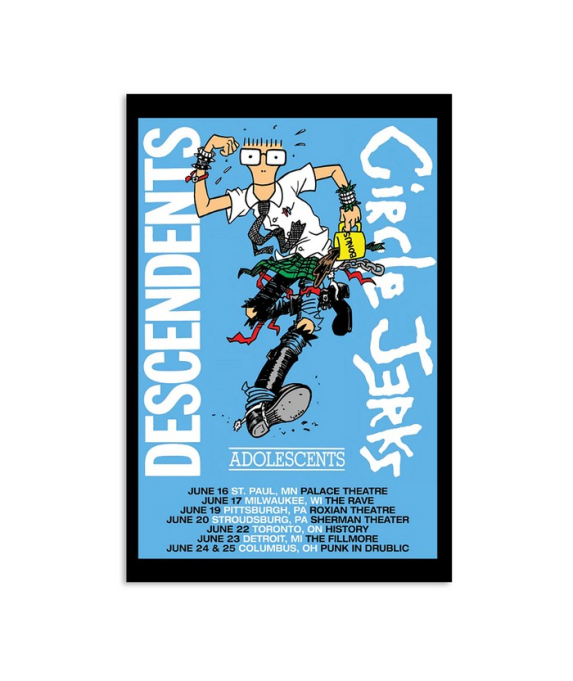 Hey fam! It's legit a chance of a LIFETIME, you DO NOT wanna miss out! November 2, 2023 - make plans, drop everything, and get your squad together! The Circle Jerks & Descendents are goin' FULL SEND at Ace of Spades, Sacramento, California! Nab your ticket PRONTO fam, they're gonna fly off the shelves faster than you can say 'hardcore punk'!
We're talking a nuclear night of rock, an explosive soiree of sound. You know these guys, with bangers like "Wild in the Streets" & "I Don't Want to Grow Up". They're gonna smash it LIVE, promise! Sac-town - are you ready to let loose, vibe out, and mosh till we drop? This concert is seriously one for the BOOKS!
The TOUR is limited, so don't be that person FOMO-ing 'cause they slept on getting a ticket. Trust, you're gonna wanna be part of this HISTORIC night at the Ace of Spades. So, slap on your battered converse, fish out that old band tee, and come lose yourself in a sick set. Gather 'round, circle up with your mates and bear witness as these LEGENDS descend upon Cali. Ready for a night of PURE adrenalized DAMAGE?? We thought so. Rock on, y'all!!
Yo, gig-lovers and punk-rock fanatics! Gear up for a RADICAL night of epic sonic mayhem! The Circle Jerks & Descendents are ramming into Sacramento on November 2, 2023. It's gonna be a legendary punk rock bash you don't wanna miss!
It's not just a Concert. It's THE concert! The tour is ON, bringing the thunderous riffs, pounding bass, and ferocious punk energy straight into your face. These two legendary bands, sharing one stage. Wowza! Feel the raw bass thump in your chest. Drown in the screams and electric guitar wails. Mosh 'til you drop and punch the air till your knuckles bleed love for punk rock!
The Circle Jerks - these guys are PRO fire-starters. Best known for their iconic album 'Group Sex,' a fireball of potent energy that turned the punk scene on its head back in '80. It's RAW, it's LOUD, and let's not forget - FAST! They're coming to bring the house down!
Then we've got Descendents, punk rock maestros, famed for the Milo Goes to College album. The dudes who blended hardcore punk with catchy melodies, and OH BOY, did it work! Grab your TICKET to be part of this incredible experience!
The venue? Ace of Spades, baby! The heart of Sacramento's music scene. Talk about killer acoustics, a beer selection that'll make your taste buds sing, and that palpable electric vibe only a hard-core rock venue can deliver. Oozing with punk pedigree, this place has seen the likes of Rancid, NOFX, and other punk legends tear up the stage. Small, intimate but RAW, it'll rub salt in your wounds and you'll love it!
When these punk giants hit Ace of Spades this Fall, it's gonna be a tear-down-the-walls, scream-'til-you're-hoarse kinda night. Sacramento, California is about to be sonic boom central, and YOU need to be there!
So, are you ready to crank the punk dial way past 11? Got the guts to stare down the wildest ride of your life? Good, 'cause this is no place for the faint of heart. It's a head-banging sanctuary for the noise-craving, punk-worshipping warriors!
Ready to BERZERK in the pit? Wheels on the punk-mobile go RUSH and get your ticket. Unleash your wild side and WELCOME to the sacred union of Circle Jerks & Descendents. Get your TICKETS, join the moshpit, and rock your socks off. Time's ticking, punk rockers! Jump in, rise up, LET'S ROCK!