Ace of Spades | Sacramento, California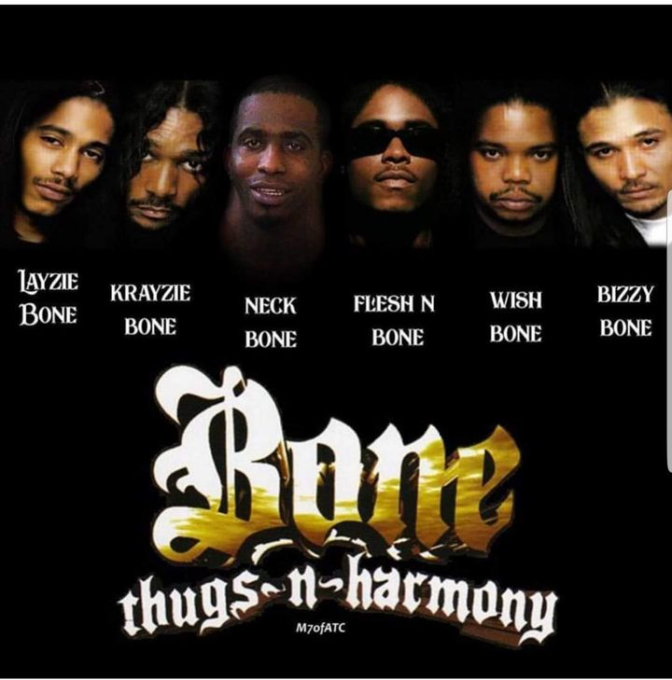 YO, Sacramento! Let's get our THROWBACK on. The Legends, Bone Thugs-N-Harmony are transporting us back to the gnarly 90's on their epic TOUR this year, hitting up Ace of Spades THIS November 8th, 2023! So mark that calendar, baby! We're talkin' about the posse that dropped classics like "Tha Crossroads" and "1st of tha Month."
Yup, Bone Thugs are bringin' all their fly tracks LIVE on this tour, delivering that signature #feelsgoodman vibe. Remember the heady days of cruising around bumping "Thuggish Ruggish Bone" from your deck? Well, time to rewind and hit that PLAY button again. It's gonna be seriously PHAT, absolutely no chill!
TICKETS to this BOOMIN' CONCERT are on sale NOW. Don't be the last homie to snag one. If you used to kick it to Bone Thugs, you know damn well this is a can't-miss event! Those harmonious flows, those undeniable jams, that pure, nostalgic HIP-HOP magic– it's all goin' down in SACTOWN!
Get ready for a NIGHT OF MADNESS, Sacramento! Grab your tickets, call up your crew, and let's take it back to the old school with Bone Thugs-N-Harmony! This ain't your everyday concert, it's a reunion tour – let's show 'em how we used to DO IT! And trust this: the sound of their greatest hits wrapping around Ace of Spades will be nothin' short of LEGENDARY!
So go, dear Gen-Xers, channel that inner 90s vibe for a night of sick harmony. BE THERE OR BE SQUARE!
Ya heard? The legendary Bone Thugs N Harmony are READY TO ROCK your world with an electric, nostalgia-drenched concert on November 8th, 2023. That's right, yall. Hold on to your seats cause this tour is gonna be CRAZY. This ain't no rumor. It's happening at the Ace of Spades in Sacramento, California. This is BIG time vibes right here!
People, listen up. This is your chance to witness the extraordinary beats and flow of a Grammy-winning hip hop group. Hell yeah! That's THE Bone Thugs N Harmony. We're talking the swagger-filled strutters that ruled the 90s hip-hop scene with their signature rapid-flow harmony. They're the hit masters behind "Thuggish Ruggish Bone", "1st of tha Month", "Tha Crossroads". Remember them bangers? YEAH. That's the stuff.
We're all about reminiscing the good ol' times. And nothin' says throwback better than a Bone Thugs N Harmony CONCERT. It's not just a gig or a show, yall. This is an EXPERIENCE. It's the feel of the bass pounding in your chest. It's the euphoria of being surrounded by fellow OG fans, all vibin' to those unique Bone Thug beats – beats that revolutionized hip-hop. It's about being part of the music and the magic – LIVE!
Bone Thugs N Harmony concert ain't just a ticket – it's a golden pass to a TIME MACHINE. And guess what? The ride's gonna be EPIC. We'll be syncing hearts with beats, and souls with rhythm. Die-hard fans? First-timers? ALL ARE WELCOME. Every one of us is gonna be part of something legendary. BELIEVE IT!
Now let's talk about Ace of Spades in Sactown. Ain't just any ol' venue, y'all. It's THE spot for live music. Known for its up-close and personal interaction with artists. A local gem! Killer acoustics. Ice-cold brews. Good vibes. NO JOKE. It's a celebration of music in an intimate setting, making every concert there an event to remember.
It's Bone Thugs. It's Sactown. It's a MATCH MADE IN DANKEST HEAVEN. This is where street meets elite meets BEAT. Where hip-hop history is made in the flesh. Face it – this is the BEST. NIGHT. EVER.
So, whatcha waitin' for? Your ticket to a mind-blowing, earth-shattering, jaw-dropping night of EPIC roles! The Bone Thugs N Harmony tour at Ace of Spades is WAITING. GET. YOUR. TICKETS. NOW.